I have an economic education and experience in advertising and PR. I speak English and German fluently, spoken Spanish. However, I've always gravitated towards visual art. Since childhood, he was fond of working with such graphic editors as Corel Draw / Photopaint, Adobe Photoshop / Lightroom, Bryce 3D, Eovia carrara studio and others (Blackmagic Fusion, Sony Vegas). I have been friends with graphic software since I was 12 years old. I was attracted by the abstract direction: paintings that convey emotions and visual images, but at the same time, they are not always comparable with objects of the real world. The fact that my parents are artists by training also contributed to my passion for the fine arts.
On the first year institute arranged an exhibition of its works on computer graphics... The most difficult thing was to come up with names for the paintings. I perceive them holistically and visually. I believe that words only limit visual perception. In that album you can see some of my work in this direction.
I have been doing photography since 2004when the camera first appeared Canon 300D (since then I've tried mass various equipment). In fact, a photograph (and then video filming) Is a logical continuation of the creative search in the field of computer graphics. It was originally a hobby. But after years I realized that I want to do this professionally.
I want to mention this conditional division of people into visuals, audials, kinesthetics, digital ... I definitely relate myself to visuals... Visual perception has always been paramount for me. Accordingly, I chose the kind of activity for myself where I can fully realize myself with full dedication.
For me photography is not a craft, but first of all it is an art. I believe that it is worth photographing either with heart (avoiding banal foreshortenings and introducing new color solutions into the frame, creating a qualitatively new reality) or it is better not to photograph at all. The same goes for video filming.
In section PORTFOLIO, you can see my photos in various genres.
Interview with me in various publications: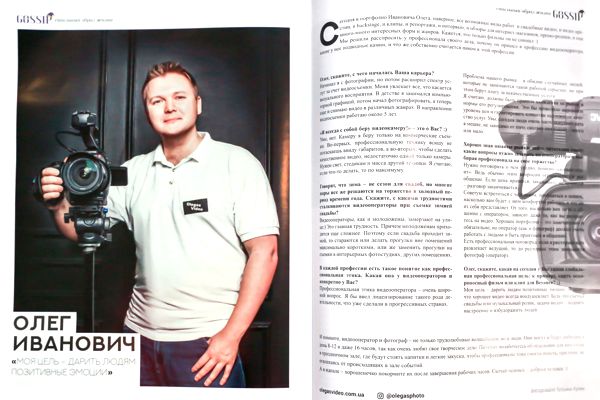 Backstage from various filming: